Item: DrahtVGSensor (Wire Feed Speed Sensor)
Prod.-Nr.: [010-033-04]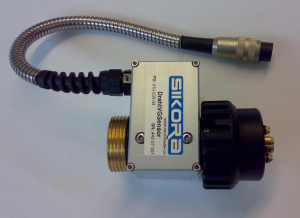 Data Sheets:
Download-Center
Request for Quote
More

Information
Description
Laser brazing needs exact wire feed rates. With the Drahtvorschub-Geschwindigkeitssensor (wire feed speed sensor) the wire feed rate and speed is measured during the process. Irregularities in the actual and deviations from the nominal values can be determined immediately.
The DrahtVGSensor is designed for wire diameters of 0.8 mm to 2.0 mm.
The signals are recorded via a Sikora Switchbox. Preparation, visualization and evaluation of the recorded data is made on a Mercator PC with the software module "Mercator Prozessdaten"(Mercator process data).
Installation
This product is meant to be mounted straight between the Robactadrive© by Fronius and the respective extension. Therefore it has by default a M33 x 2 thread.
Technical Data:
Sensibility:                    0,05 mm
Encoder Resolution:    1000 Increments
Wire Diameter:             0,8 … 2,0 mm
max. Current:               200 A
Allowed Coolant Pressure:  3,2 bar
❰ Product Overview